BRICK & COOKING KILN
06 Technical Study
Brick - Study and Effects
How the design of bricks alters the sense of sound and smell


Sound

There are two main concepts about sound: Resonance and Reverberation. Resonance is about the intensification of sound produced by sympathetic vibration, while reverberation is about the collection of reflected sounds from the surfaces in an enclosure.
Both resonance and reverberation can be achieved by the building form as well as building material. In the study of sound in architecture, arches and domes are often used to create resonance and reverberation. The curved surface increases the surface area for reflection of sound, so that the sound will bounce in the area for longer time.
Concrete Bricks
Considering the wanted effects and the concept of the building, concrete bricks are considered as façade material. Concrete Masonry Units (CMUs) provide a durable structural and non-structural partitions. Compared to bricks, concrete hollow bricks are more durable and can carry heavier loads. They are lighter in weight and are easier to work with. They can be manufactured to provide a variety of surface appearances. They can be colored during manufacturing or stained or painted after installation. Concrete hollow bricks have several advantages. They create the visual connection between inside and outside, and the beauty of ambiguity. They provide daylight and fresh smell of nature. Seven types of concrete bricks are designed for smell and sound absorption.
Smell

The sense of the smell allows us to perceive and to differentiate the odours. It is highly related to the sense of taste and the sensation of flavour. The smell provides extra information and enjoyment to the eating process.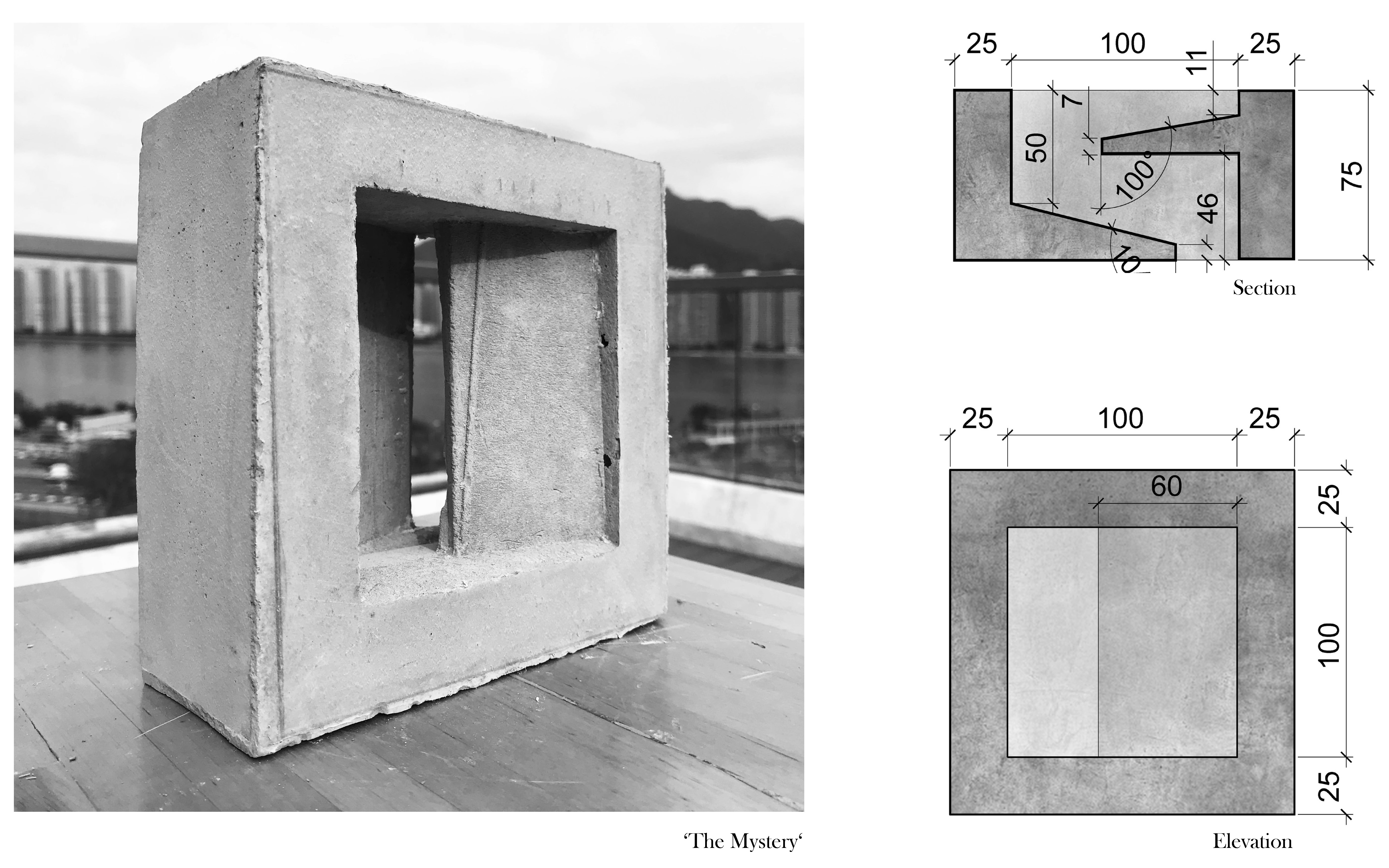 Design with Bricks
How the study of bricks informs and generates design
Program

The design of brick modules allows freedom in arrangement according to the programmatic use of the space. For Food and Pottery workshops, where performance is displayed, more concrete hollow bricks can be utilized for the façade. For areas where river rounds through, or more enclosed areas like exhibition or dining area, sound absorptive bricks can be used. The amount of lighting admitted can also be considered. Other than for the purpose of smell,
the concentrator brick can also act as a lighting control device, to admit favourable lighting as desired. On the other hand, mystery brick provides sufficient ventilation while protect privacy visually.

Flexibility in Pattern and Orientation
The arrangements of the bricks can cater for the wind direction and the level of sound/smell desired to absorb. The proportion of hollow bricks and solid bricks can be adjusted freely. The bricks can be placed sticking to each other, or with space apart.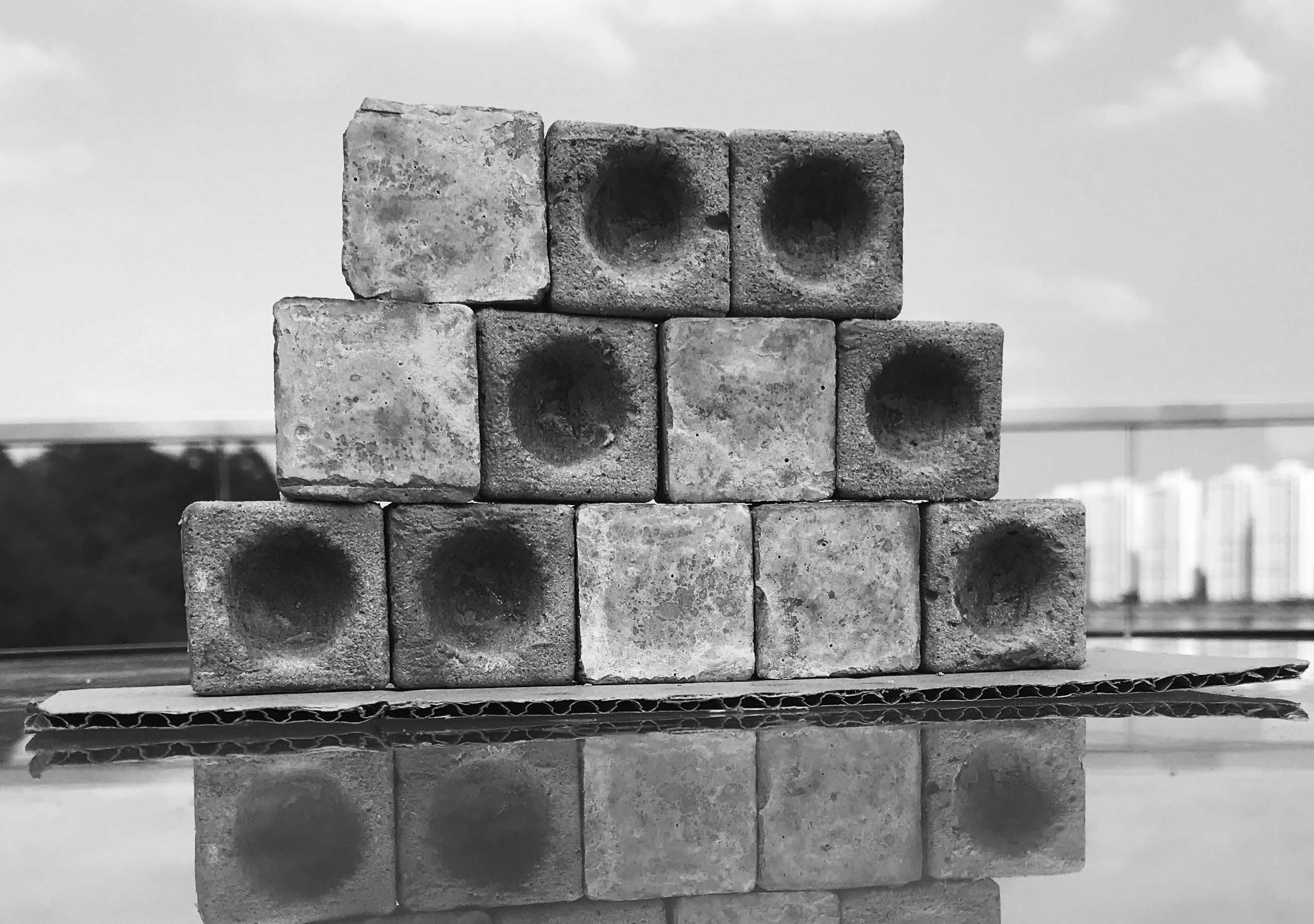 Absorptive Brick Pattern Type 1-4
Transitive Brick Pattern Type 1-4
Reference

First Intangible Cultural Heritage Inventory of Hong Kong (Rep.). (n.d.). Hong Kong, Chi­na: Hong Kong Intangible Cultural Heritage Office.
Chen, C. (2020, November 24). Alila yangshuo hotel / Vector Architects. Retrieved Febru­ary 28, 2021, from https://www.archdaily.com/928950/alila-yangshuo-vector-architects?ad_ medium=gallery
蔡志祥., 韋錦新., & 韋錦新. (2014). 延續與變革 : 香港社區建醮傳統的民族誌.
蔡志祥, 韋錦新, & 呂永昇. (2011). 儀式與科儀 : 香港新界的正一清醮 (第1版 ed.,華南硏究文獻叢刊 ; 13). 香港: 香港科技大學華南硏究中心.
高添强. (1994). 香港今昔 (香港第1版 ed.). 香港: 三聯書店(香港)有限公司.
李添福. (2009). 新界客家村情懷. 香港: 超媒體出版.
昔日沙田 - 沙田今昔 - 馬鞍山民康促進會. (2015). Https://Mos.Hk/Sha­tin/10.
邱東., 曾憲冠., & 曾憲冠. (1992). 新界風物與民情 (第1版 ed., 古今香港系列). 香港: 三聯書店(香港)有限公司.
沙田區九約十年一屆乙酉年太平淸醮建醮委員會秘書組. (2005). 沙田區九約十年一屆乙酉年太平淸醮特刊. 香港: 沙田區九約十年一屆乙酉年太平淸醮建醮委員會.
昔日沙田 - 沙田今昔 - 馬鞍山民康促進會. (2015). Https://Mos.Hk/Sha­tin/10.
郭偉康. (2007). 舞獅的藝術 = The Art of Lion Dance. 香港: 超媒體有限公司.
衛慶祥. (2016). 沙田田心村十年一屆(丙申年)太平清醮特刊. 香港: 沙田田心村丙申年十年一屆太平清醮2016建醮委員會.
衛慶祥. (2006). 沙田田心村十年一屆丙戌年太平清醮特刊. Hong Kong]: 田心村丙戌年建醮委員會.
沙田田心村麒麟隊. (n.d.). Retrieved December 15, 2020, from https://www.youtube.com/channel/UCOJAHDzK4uy04A31BE8i6SA/videos
大圍村建醮委員會. (2007). 沙田大圍村侯王宮十年一屆丁亥年太平淸醮. 香港]: 大圍村建醮委員會.